HIGHLIGHTS
Shared the stage with Ben Jones ("Cooter" from The Dukes of Hazzard), Buddy Jewel, Chely Wright, Collin Raye, Darryl Worley, David Lee Murphy, Gordon Mote (Gaither Homecoming Artist), James Wesley, Jimmy Fortune (formerly with The Statler Brothers), Joe Nichols, John Schneider, Kevin Sharp, Lee An Womak. Little Texas, Lonestar (Richie McDonald & John Rich), Marty Raybon (formerly with Shenendoah), Perfect Stranger, Randy Travis, Rhonda Vincent, Ricky Van Shelton, Rocky Lynne, Ronnie McDowell, Sawyer Brown, Sonny Geraci (formerly with the Outsiders and Climax), T. Graham Brown, Tanya Tucker, The Dove Brothers, Tracy Byrd, US Navy Band, Wade Hayes, Brian Free, Assurance and many more.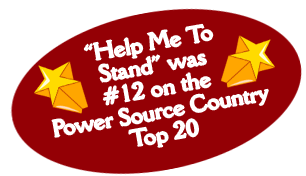 "That's Love" and "Help Me To Stand"
both hit #2 on the
Christian Country Top 100
Performed for over 20,000 people at the Historic Morganton Festival
concert in North Carolina.
Nominated for ICM (Inspirational Country Music) Songwriter Of The Year.
"I really enjoyed your show. You've got a big ole voice!" – Darryl Worley
"You sounded great young man!" - Ronnie McDowell
"One of the best ever at the fair" – G. B. Spencer, President,
Chesterfield County Fair
"I heard your song on the radio today. It sounded great; I would like to produce your next album." – Gordon Mote, Gaither Homecoming Artist
"It was worth coming just to hear you sing." - Brian Free
"One of the best vocalists I've ever heard" – multi award winning tenor, Jimmy Fortune, from the Statler Brothers
"You are an outstanding performer and it was an extreme honor to have the opportunity to work with you." – Susan England-Lord, President, Mullens (WV) Dogwood Festival